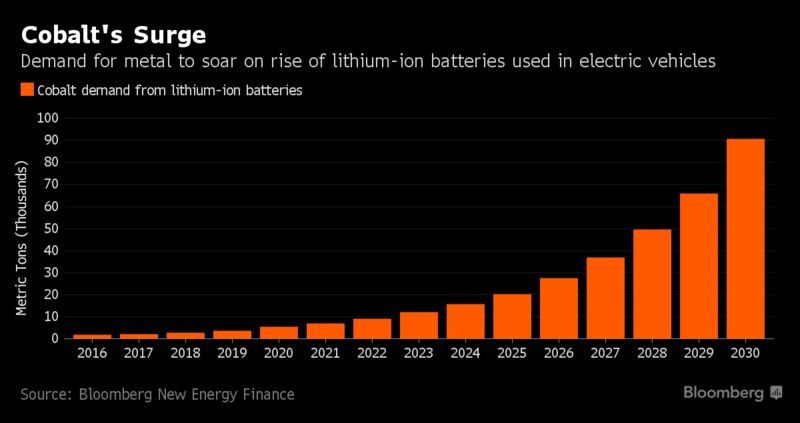 The world's biggest mining companies have more or less recovered from the commodity boom and bust of the past decade. At the same time, they've been left with an existential crisis: What minerals are going to drive their growth in the decades to come?
Aluminum was white-hot in 2007 when Rio Tinto Group paid $38 billion for Alcan Inc., but it's since been sunk by a wave of Chinese oversupply. Coal and iron ore helped drive the Bloomberg Commodity Index to its most recent peak in 2011, but have fallen on harder times due to fears of climate-related demand weakness and a plateau in steel production. Even copper faces surpluses through to 2020, according to Bloomberg Intelligence's supply model, which would tend to weigh on prices.
Thank goodness, then, for Saint Elon Musk. Demand for battery materials to feed the nascent electric-vehicle and electricity-storage industries has made a group of hitherto obscure minerals — principally cobalt, lithium and graphite — the next big thing in the mining industry.
Two Chinese groups spent $3.8 billion over the past year buying Freeport McMoRan Inc. and Lundin Mining Corp. out of Tenke Fungurume, a Congolese mine with some of the world's richest cobalt deposits. Glencore Plc, the largest cobalt producer, plans to double output by 2018. Rio Tinto has called out a lithium deposit discovered in Serbia as a potential top-three source of the element, and there have been numerous reports of bids for Sociedad Quimica y Minera de Chile SA, or SQM, one of the current largest producers. Shares in Graphite India Ltd., an electrodes manufacturer, have more than doubled this year; those of graphite developer Syrah Resources Ltd. rose 50 percent in the first half of 2016.
With Volvo this week becoming the latest automaker to get on the EV train, could these minerals be the salvation of the resources industry?
Probably not.
To see why, it's worth looking at where the money is made in the global commodities trade: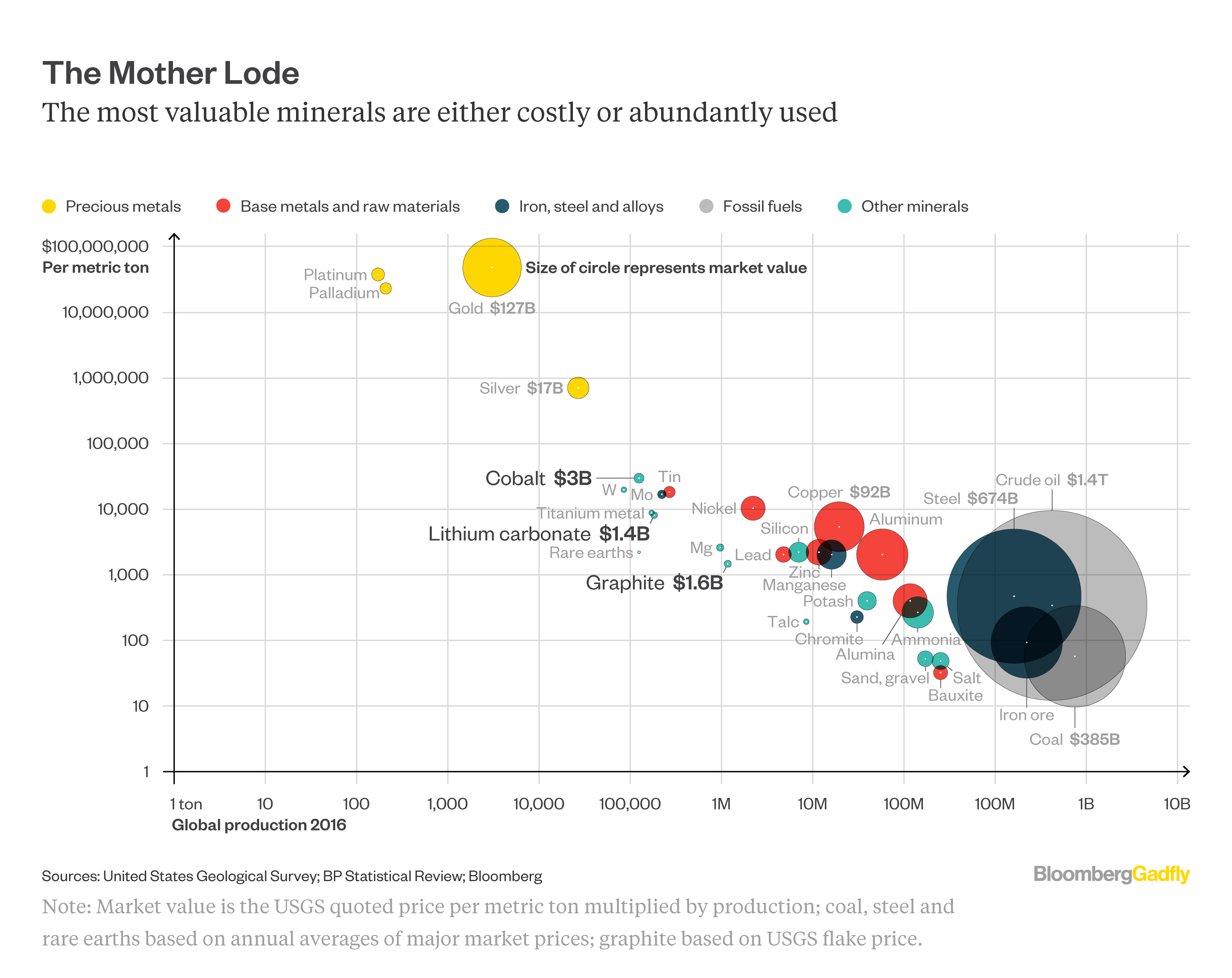 Most resources companies concentrate on producing either basic materials (where demand is vast and prices low) or precious metals, where prices are stratospheric and output microscopic. Between those two extremes, there's a no-man's land of minor metals and other minerals which are somewhat costly, but not consumed in great volumes — and that's exactly where cobalt, lithium and graphite are to be found.
A cautionary tale for this group of commodities played out in a Delaware bankruptcy court last month, where a judge approved the sale of Molycorp Minerals LLC's Mountain Pass mine to a group of creditors for $20.5 million plus liabilities.
Molycorp, the only U.S. producer of rare earths metals, briefly had a market capitalization above $6 billion in 2011, at a time when fears ran hot that China could control that market and choke off supply of materials used in critical applications such as missile-guidance systems. When Beijing unwound the export curbs that drove the surge in prices, the market was flooded and a budding rare-earths industry was snuffed out.
Rise and Fall
Shanghai prices for rare earth oxides went through the roof in 2011. They've yet to recover
Why can't these materials get off the ground?
Substitution is part of it. The ideal commodities exist in a Goldilocks zone: Hot enough to generate some good margin, but not so hot that consumers switch to alternative materials. Were it not for the rise of consumer electronics, the copper business would have been in trouble when plumbers started using cheaper PVC in domestic pipework.
The threat of technological change is broader even than that. Humans have been using copper and tin since the Bronze Age kicked off more than 5,000 years ago and iron has been widespread for three millennia or so. By contrast, lithium-ion battery technology only dates back to 1991, and the specific mix of elements used in their electrodes varies widely.
While lithium, cobalt and graphite have some unique chemical properties, there's no guarantee that will last. Cells based on magnesium or sodium could see lithium-ion technology go the way of the nickel-iron cells that Thomas Edison hoped would power a previous generation of electric cars.
Beyond that is an issue of scale. Even after the recent crash in prices, the first rank of global mining companies all generate upward of $10 billion a year in revenue. Were BHP Billiton Ltd. to add the 2016 output of the global lithium industry at SQM's 14 percent net income margin, it would move its own profits by only a percentage point or so. And that sort of situation would never happen: As the U.S. House of Representatives demonstrated when it passed a law in 2010 to deal with Chinese dominance in rare earths, governments tend to get jumpy if one company dominates more than about a third of the supply of any raw material.
Back to Basics
The winners from the rise of electric vehicles are likely to be the traditional industrial metals
That's the best explanation for why miners are sticking for the most part with the same suite of commodities they've been digging up for the past few decades. Even if electric-vehicle sales surged to 41 million in 2040 from the about 800,000 expected in 2018, the biggest winners in volume and price terms would probably be boring old exchange-traded aluminum, copper and nickel, according to a report by Bloomberg Intelligence analyst Eily Ong.
The primary industrial metals are dominant for long-standing reasons — and even Musk isn't likely to change that.
Read more from original source: https://www.bloomberg.com/gadfly/articles/2017-07-06/elon-musk-won-t-save-big-mining