Summary
From a geopolitical perspective, there are two classes of cobalt supplies; metal refined in China that's unavailable to non-Chinese customers and metal refined outside China that's available to anyone.
From an economic perspective, there are two classes of cobalt users – industrial users that represent half of global demand and battery manufacturers that scarf the leftovers.
From a battery manufacturing perspective, there are two end-use segments – high-value consumer products and low-value transportation and stationary storage products.
When one separates cobalt refined in China from cobalt refined elsewhere and further separates non-Chinese cobalt based on end use, it becomes clear there's almost no cobalt for non-Chinese automakers.
Tesla has no cobalt supply chain of its own and Panasonic's supply chain can't support the production of more than 250,000 Model 3s per year.
Introduction
Tesla (TSLA) has a problem that may be a company killer. Elon Musk has promised stakeholders a Model 3 run rate of 500,000 cars per year by the end of 2018, but Panasonic's (OTCPK:PCRFF) cathode powder supply chain can't support more than half of that volume. More importantly, expansion of Panasonic's supply chain would be a Herculean task because its cathode powder supplier, Sumitomo Metal Mining (OTCPK:SMMYY), already is using 100% of its cobalt production to satisfy Panasonic's cathode powder requirements.
While I would consider a sustained run rate of 250,000 Model 3s per year a major accomplishment, I don't think a market that expects multiples of that production volume next year would share my admiration. Some of my readers will delight in observing that Tesla has a long history of ambitious promises backed by small and late deliveries, but that kind of criticism mutes the ugly reality that a 250,000 car per year run rate on the Model 3 won't be enough to stem the tide of red ink or put Tesla in a position to service its debts.
We all know what happens when companies are chronically incapable of making a buck without the kind financial gimmickry that pervades Tesla's financial reporting.
Tesla piggybacks Panasonic's supply chain
While Tesla's Gigavision included the capacity to produce cathode powders from precursor metals in the Gigafactory, that capacity was not built and neither Tesla nor Panasonic buys cobalt, nickel, lithium or any other precursor metals for batteries. Instead, Panasonic buys processed NCA cathode powders from Sumitomo Metal Mining, a Japanese company that co-developed the NCA chemistry with Panasonic and manufactured the bulk of the world's NCA cathode powders in 2016.
Over the last four years, Sumitomo has announced three capacity expansions at its NCA cathode powder production facilities in Niihama, Japan.
The first expansion announced in October 2014 and completed in December 2015 increased production from 850 to 1,850 tons per month, or 22,200 TPY.
The second expansion announced in October 2016 and slated for completion in January 2018 will increase production from 1,850 to 3,550 tons per month, or 46,200 TPY.
The third expansion announced in July 2017 and slated for completion in June 2018 will increase production from 3,550 to 4,550 tons per month, or 54,600 TPY.
Since NCA cathode powders were originally 9.2% cobalt by weight, it appears that Sumitomo's second capacity expansion was designed to fully absorb the 4,300 TPY of cobalt that Sumitomo produces from its mines in the Philippines and Indonesia.
It appears that the third capacity expansion is directly attributable to changes in the NCA cathode powder formula that reduce the required cobalt from 9.2% to 8%.
In a recent blue paper titled "Electric Vehicles on the Charge," Morgan Stanley reported that cathode powders for Tesla's NCA batteries use 939 grams of nickel per kWh of battery capacity. When you calculate the weight of the other essential elements in an NCA cathode powder and allow for industry standard scrap rates of 4%, 939 grams of nickel per kWh equates to 1.93 kg of cathode powder per kWh.
That means Sumitomo will be able to make cathode powders for 28.3 million kWh of batteries per year when all three expansions are complete. It will not, however, have the assured metal supplies or the processing facilities to make greater volumes.
With an average battery pack size of 85 kWh, Tesla's combined Model S and Model X run rate of 100,000 cars per year will absorb 8.5 million kWh of Sumitomo's cathode powder capacity, leaving 19.8 million kWh of cathode powder capacity available for all of Sumitomo's other NCA customers, including Tesla's Gigafactory.
I do not know whether Sumitomo sells NCA cathode powder to customers other than Panasonic and I do not know whether Panasonic sells NCA batteries to customers other than Tesla. But even if I assume the answer to both questions is, "absolutely not," Panasonic's supply chain can't support the production of more than 250,000 long-range Model 3 battery packs per year unless Panasonic stops making cells for Model S and Model X battery packs.
If either Sumitomo or Panasonic have hedged their bets by diversifying their customer bases to include companies other than Tesla, the Gigafactory's supply chain will be far weaker and the production caps far more restrictive.
Summary overview of the Cobalt Cliff
Cobalt is a technology metal that's produced as a minor byproduct of some copper and some nickel mines. In general, increased demand for a byproduct metal does not give rise to a supply-side response until byproduct prices rise to a level that changes the economics of producing the primary metal. Since March 2016, cobalt prices have skyrocketed from a low of $10.50 to a recent high of $28.35 per pound, but cobalt supplies have remained stable because the fundamental mining economics have not changed.
The following graphs are based on historical and forecast supply and demand data from several sources including Darton Commodities, Morgan Stanley and Research in China. Annual totals include an estimated 6,500 TPY of net refined cobalt from artisanal mines in the DRC.
The blue, red and green segments with white lettering represent the substantial bulk of global cobalt supplies, materials that are simply not available to non-Chinese battery manufacturers.
The yellow segments with black lettering represent the leftover cobalt available for use by non-Chinese battery manufacturers including Samsung, LG Chem Panasonic, Sony (NYSE:SNE) and others.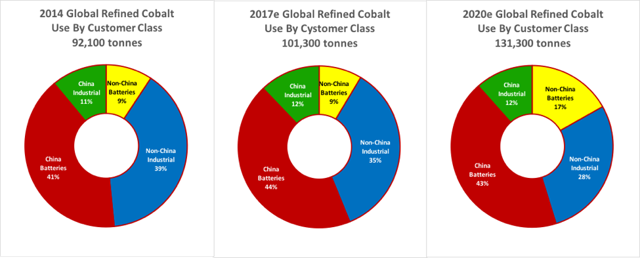 While the amount of cobalt available to non-Chinese battery manufacturers will increase by roughly 13,400 TPY over the next three years as Glencore's Katanga mine is slowly returned to production, the production ramp will take time and the increased cobalt availability will pale in comparison to increased demand from non-Chinese automakers.
Summary Overview of automaker cobalt demand
These are interesting times in the vehicle electrification sector because:
Most non-Chinese automakers, including Nissan (OTCPK:NSANY) and GM (NYSE:GM), are moving away from cobalt-free LMO battery chemistries in favor of higher-energy NMC chemistries;
Chinese automakers are moving away from LMO and LFP battery chemistries en masse because revised energy density targets established by the Chinese government can't be met with low-energy battery chemistries; and
Demand for high-energy batteries in consumer electronics continues to grow rapidly.
In general, a 60 kWh NCA battery pack will require about 9 kg of cobalt and a 60 kWh NMC (622) battery pack will require about 12 kg of cobalt. That means the maximum annual EV production from non-Chinese automakers other than Tesla will be about 2 million cars.
At this point it's probably worth repeating my long-held view that technologies like battery powered electric drive that can't be deployed at relevant scale are, by definition, irrelevant. A few million EVs a year worldwide is not a revolution. It's political theatre.
While my supply and demand graphs forecast 13,400 TPY of incremental cobalt supply for non-Chinese battery manufacturers by 2020, a four-year, 20,000 tonne cobalt offtake agreement that Volkswagen (OTCPK:VLKAY) and China's Contemporary Amperex Technology signed with Glencore last fall will slash the effective supply increase from 13,400 TPY to 8,400 TPY. While there may be other offtake agreements that haven't been reported, it's a safe bet that there are no undisclosed Tesla contracts because Mr. Musk can't sign anything without promptly tweeting the details.
Summary overview of battery economics
Many EV advocates seem to believe that automakers can compete with consumer electronics for batteries and battery materials. Nothing could be farther from the truth.
As a simple example, consider Samsung. It makes and sells smartphones and it also makes and sells batteries for automakers. When Samsung makes a thousand watt hours of cells for use in 100 smartphones, it expects something on the order of $30,000 to $50,000 in revenue from smartphone sales. When Samsung makes a thousand watt hours of cells for an automaker, it expects $150 to $200 in revenue. The instant Samsung runs into a supply chain limit, its high value-added smartphone business gets first priority and its automaker customers get whatever is left.
It's also important to realize that while automakers can build small fleets of compliance vehicles using battery cells manufactured by third parties, mass market products require a dedicated cell manufacturing facility that does nothing but manufacture cells for a particular product.
Tesla didn't choose to become a battery manufacturer. It had to become a manufacturer because a Tesla-owned facility was the only way to assure the availability of adequate volumes of technically identical cells.
Since every automaker that gets serious about making EVs will have to become a battery manufacturer and build its own Gigafactory, the competition among automakers for priority access to severely limited cobalt supplies will probably be the next greatest show on earth.
Investment Conclusion
At this point I think Tesla's common stock may be a perfect short – a short that professionals don't expect to cover because they believe an unavoidable bankruptcy of the issuer will obviate the need to do so. My reasons for that view include:
There's nothing Tesla can do to build cathode material supply chains that will permit production of more than 250,000 Model 3s per year in the foreseeable future.
A maximum run rate of 250,000 Model 3s per year will come as a major disappointment to stakeholders who've been promised multiples of that volume next year.
A maximum run rate 250,000 Model 3s per year will not stem the tide of red ink or give Tesla the financial means to pay its debt service costs.
The underwriters and lawyers associated with Tesla's next financing will discover the same facts in their due diligence investigations that I discovered in my research and they will almost certainly require disclosure of those facts in Tesla's future SEC filings.
Reasonable investors do not pour new financing into unprofitable companies with insolvable supply chain challenges that cap growth potential for the foreseeable future.
In short, Tesla is a dead-end company and the investment value of its common stock is about $345 less than last Friday's closing price.
Read more from original source: https://seekingalpha.com/article/4115479-cobalt-cliff-will-cap-teslas-model-3-production-capacity-250000-units-per-year