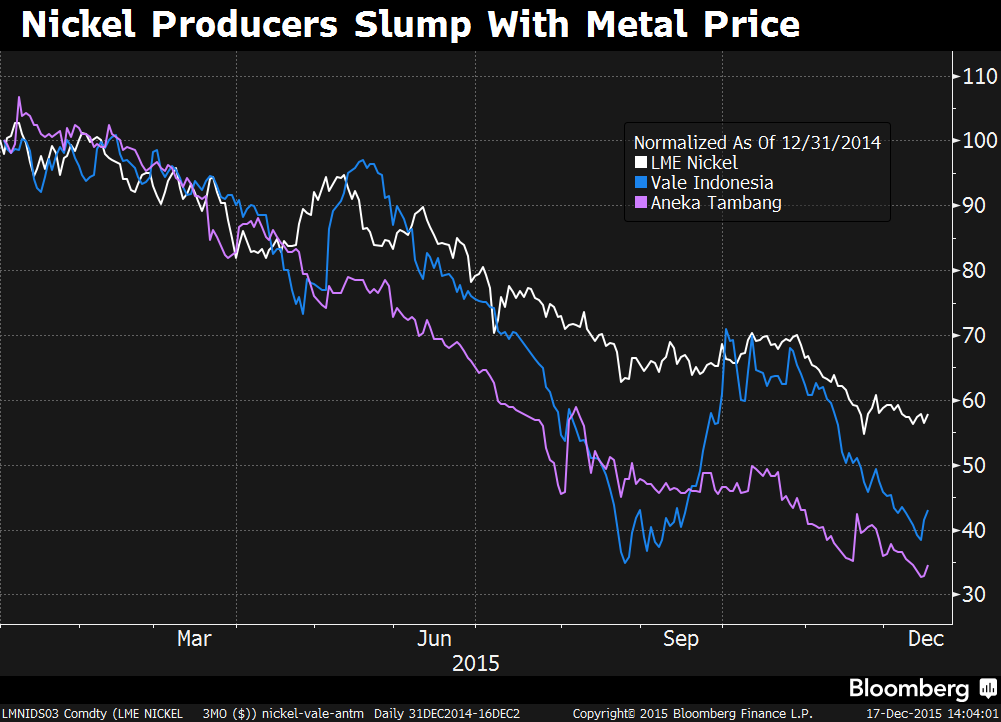 Almost two years after Indonesia, the largest producer of mined nickel, banned ore exports to nurture its metals industry, fledgling smelters are being pummeled by a plunge of more than 40 percent in prices.
The chief executive officer of one of the biggest producers, a Chinese-Indonesian venture called Tsingshan Bintangdelapan Group, says with output costs at $10,000 to $11,000 a metric ton, he's making a $2,000 loss on every ton he ships. While CEO Alexander Barus thinks prices will recover, he says plans for new smelters will be put on hold if rates stay where they are now.
The principal cause of the slump is the slowdown in China, which consumes about half of the world's nickel used mostly for corrosion-resistance in stainless steel. Asia's largest economy is facing the weakest growth in a generation as the country shifts to consumer demand and services as the main driver of expansion. That's cut demand for everything from coal to cement and steel. Nickel trades at $8,665 a ton in London, near the lowest in 12 years.
"People planned their investments when prices were at $12,000," said Barus at the venture held by the Jakarta-based Bintangdelapan Group and Tsingshan Holding Group from China. "If nickel recovers to above $10,000, new smelters are still possible, but it's highly unlikely below that," he said in an interview.
The company is pushing ahead with expansion of its processing plants in central Sulawesi, which will have the capacity to produce 900,000 tons of nickel pig iron a year by May, or the equivalent of about 90,000 tons of pure metal, according to Barus. If all the capacity is utilized, it could supply more than 4 percent of annual global consumption based on a Morgan Stanley forecast of demand at 1.94 million tons in 2016.
Worst Performer
Prices surged more than 50 percent to the highest level in more than two years after Indonesia imposed the ban in January 2014. Rates have since plummeted about 60 percent amid a deepening slowdown in China. The metal is the worst performer on the London Metal Exchange in 2015, sliding 43 percent, and Morgan Stanley estimates that 70 percent of the market has been loss-making.
Relief may be in sight. Morgan Stanley chooses nickel as its most preferred metal, predicting that prices will rise to average $10,692 in 2016 and $12,236 the year after. Speculative trading and destocking had an excessive impact on the market in 2015, analysts including Tom Price and Joel Crane said in a quarterly report on Dec. 15. The metal is also one of the top picks at Credit Suisse Group AG.
Bambang Gatot Ariyono, director general of coal and minerals at the Energy and Mineral Resources Ministry in Indonesia, said last month that six smelters would start operations this year with a total capacity of 524,000 tons. That equals about 50,000 tons of pure nickel on the basis that nickel pig iron usually contains about 10 percent metal.
'Hard Time'
"It's a hard time for mineral processing," Ariyono said this week. The government is open to proposals for revising the 2009 mining law because of the problems companies have faced with the development of smelters, he said, but he didn't give a time-frame. The law includes the ban on ore shipments.
PT Vale Indonesia, a unit of Vale SA in Brazil, and PT Aneka Tambang are two other leading producers in the country. Vale makes nickel in matte, an intermediate product, while Antam supplies ferro-nickel. Shares of PT Vale are down 58 percent this year and Antam's stock has plunged 66 percent.
Vale Indonesia continues to reduce output costs to stay competitive, Chief Financial Officer Febriany Eddy said by e-mail on Dec. 16. Production was 15 percent higher in the third quarter than a year earlier, according to a company statement. Antam increased output by 10 percent in the first nine months, it said. Tri Hartono, corporate secretary, said by text that the company was applying strict efficiency in all its business lines to keep the unit cost below the sale price.
Read more from original source: http://www.bloomberg.com/news/articles